A lot to celebrate! Emily Good and Ryan Long graduate from USC's Arnold School of Public Health May 2023! 
Ryan Long also presented his honors thesis at Discover USC! (see pictured below with Cocky)

Last but not least, Dr. Amy Reyner was hooded at the ASPH Hooding Ceremony where she received her Doctor of Physical Therapy (DPT) degree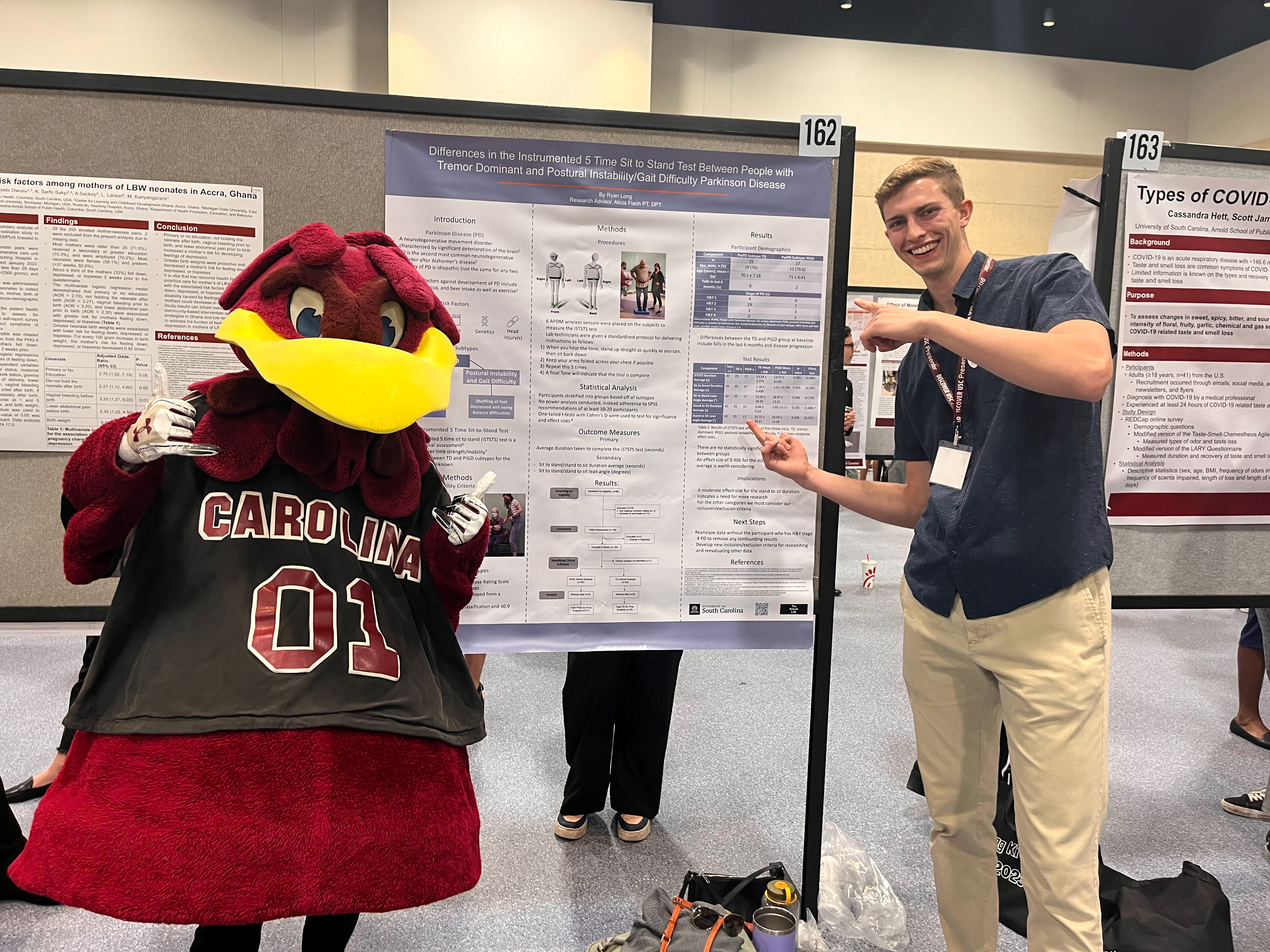 Dr. Flach presents 
Education and Exercise Support for Individuals Newly Diagnosed with Parkinson Disease and Their Care Partners. 
at the APTA Combined Sections Meeting and receives Best Research Poster Award from the Academy of Neurologic Physical Therapy, Degenerative Diseases Special Interest Group 
Parkinson's Disease. Resources.Education.Vitality+ in the News
The PDREV+ research study recently made WLTX news, featuring its beneficial YMCA partnership along with the educational resources that come with being a part of the study. Dr. Flach is quoted many times as she describes Parkinson's disease and the who exercise might benefit those who have PD. To see the news article click here.
The Parkinson's Disease Physical Therapy Faculty Scholar grant awarded to Dr. Flach and Dr. Regan received recognition on March 10 in the ASPPH Friday Letter. The notable mention can be found in the Faculty and Staff Honors section or by clicking here. To read more about the research grant itself, click on the link under the February 2022 section of this page
Falls and Parkinson's Disease
Topic: We will discuss all things falls related to Parkinson's Disease. Topics included will be the risk of falling for people living with PD, what can increase and decrease fall risk, and suggested ways to prevent falls.
Dr. Alicia Flach and, Co-Investigator, Dr. Elizabeth Regan,  are the recipients of a Physical Therapy Faculty Scholar grant from the Parkinson's Foundation to further grow and sustain PDREV+. The program focuses on providing education and exercise opportunities for people with Parkinson's disease and their care partners in Columbia, South Carolina. 
Read the Press Release 
here